About me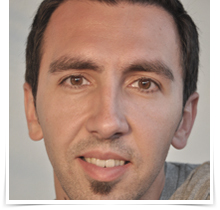 Developing data for digital media is my passion as I am fascinated by new technologies. After working several years in the field of sales, I began to dedicate myself to web projects and improved my technical web skills. In 2011 I achieved the Master's degree CAWEB and now have a strong background in web development, online marketing, project management and localization.

In my professional life in the last three years I could pursue my preferred occupation such as inventing, conceptualizing, designing, developing and deploying websites and applications. Now I'm a freelancer and work passionatly on different web projects always keeping in mind to provide simple and innovative approaches. My vision consists in creating with passion, using creativity to persuade and using technology to keep it simple.

Whether it is websites, web applications, profiles or multimedia designs, I can effectively offer products that perfectly suit any of your needs. Let me help you solving all your coding problems. Feel free to read my references, view my resume or check out my work. I am currently available for hire, so if you think that I am the right person for your project, don't hesitate to contact me!